Το eWomen'sSummit διοργανώνει μια σειρά απόσυνέδρια και ημερίδες που αφορούν τις γυναίκες που ανήκουν σε όλες τις κοινωνικές ομάδες και ιδιαίτερα στις ειδικές κοινωνικές ομάδες, με στόχο τη βελτίωση του δυναμικού τους και την καλύτερη ενσωμάτωσή τους στην κοινωνία και την απασχολησιμότητα. Επίσης, ενημερώνει & προβάλλει δραστηριότητες άλλων οργανισμών και φορέων, σχετικές με το παραπάνω στόχο.
2022 Forbes Power Women's Summit
(September 15, 2022 – In-Person + Virtual Event)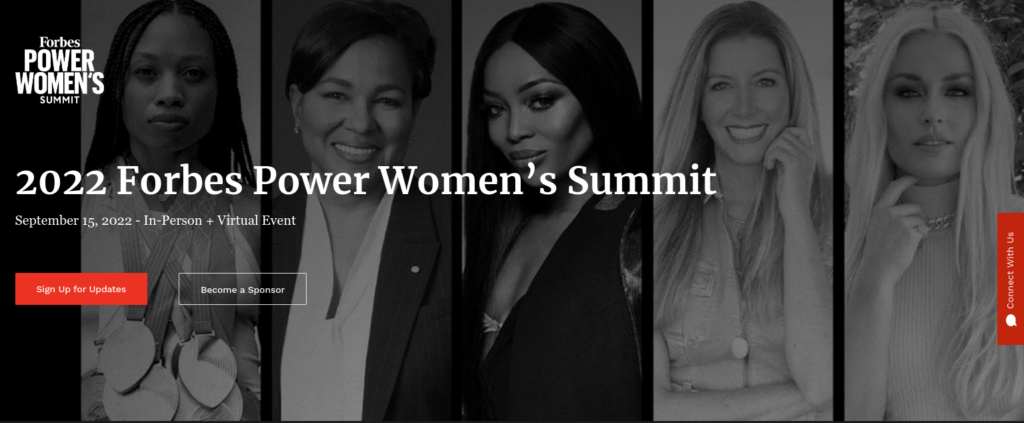 Dedicated to unlocking new thinking and translating ideas into impact, the 2022 Forbes Power Women's Summit will convene leaders on the frontlines of progress who are breaking new ground and harnessing their power to create a more equitable world.
See Details: https://www.forbes.com/connect/event/2022forbespowerwomenssummit/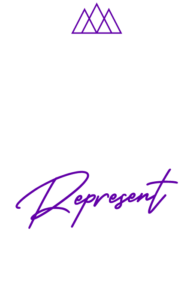 Power-Women-Summit-2022
The Power Women Summit is the largest annual gathering of the most influential women in entertainment, media and technology. The event aims to inspire and empower women across the landscape of their professional careers and personal lives

2022 GLOBAL SUMMIT OF WOMEN-DURING SUMMIT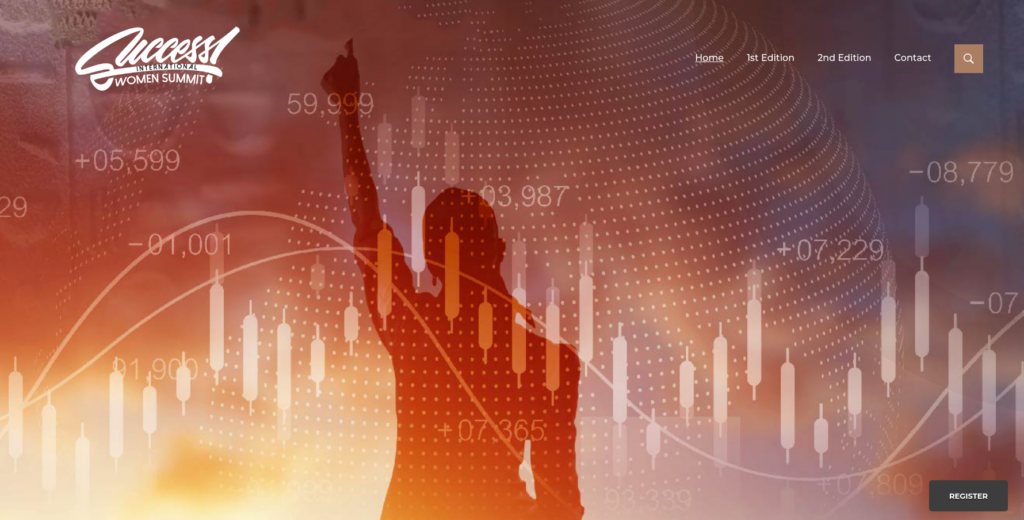 International Women Summit
The event aims to highlight women's achievements and gathers women leaders from all over Egypt , which includes government, business, media, women associations, global official institutions and NGO's under one roof thereby facilitating unprecedented access to distinguished women leaders.
The event is an important opportunity for local and regional women leaders to promote the exchange of best practices, knowledge on leadership, and women's empowerment and the world civilizations and culture to have a world with peace and leadership.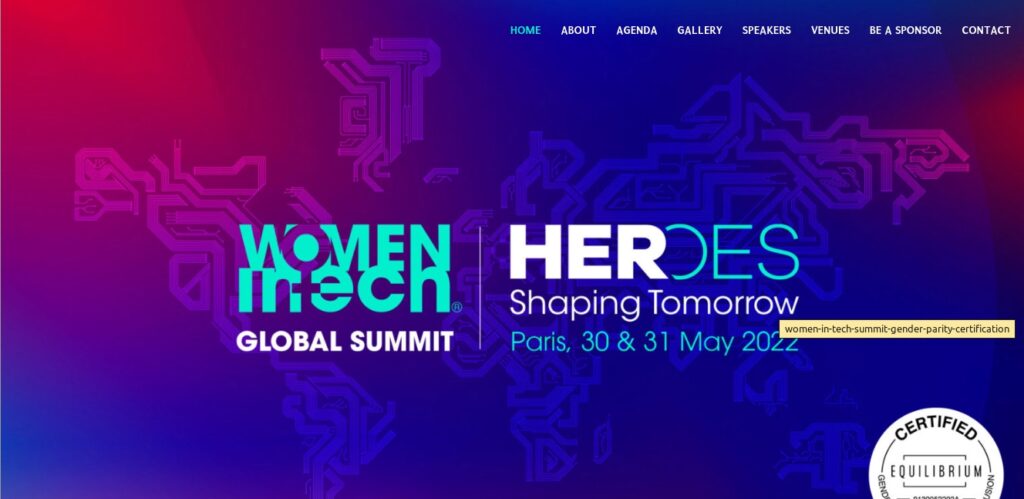 Women in Tech Global Summit – Paris, 30 & 31 May 2022
Women in Tech Global Summit: HERoes Shaping Tomorrow
The Women in Tech Global Summit is a 2-day event happening on the 30th & 31st May 2022 under the High Patronage of Ms. Elisabeth Moreno, French Minister for Gender Equality, Diversity and Equal Opportunities. The theme 'HERoes Shaping tomorrow', celebrates women across the world who are the Shakers, Makers and Innovators of our new society and economy. The Summit will kick off in Paris on Monday 30th May for 2 days of content. Its aim is to inform, inspire and catalyze collective efforts to reduce the gender and digital gap in STEAM by 2030.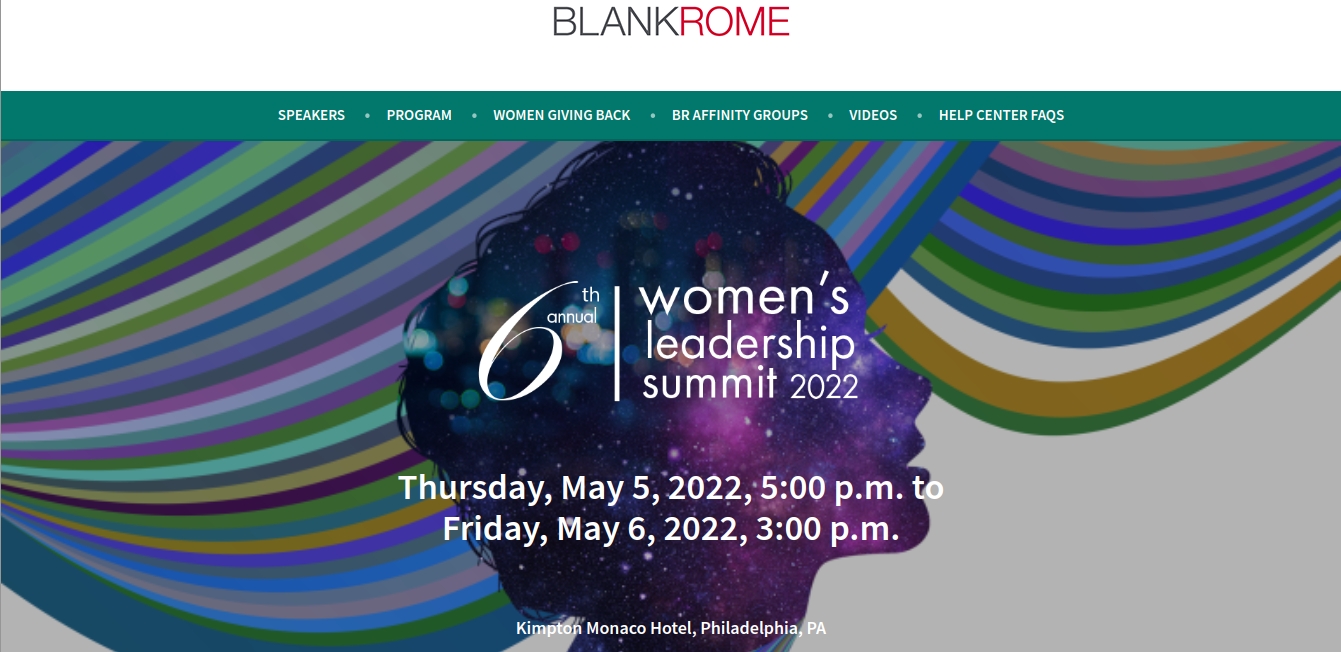 6th Annual Women's leadership summit 2022 BLANKROME
For the sixth consecutive year, our community of dynamic women leaders in law and business will gather for the Blank Rome Women's Leadership Summit.  We hope you'll join us.
More Info: https://womensummit.blankrome.com/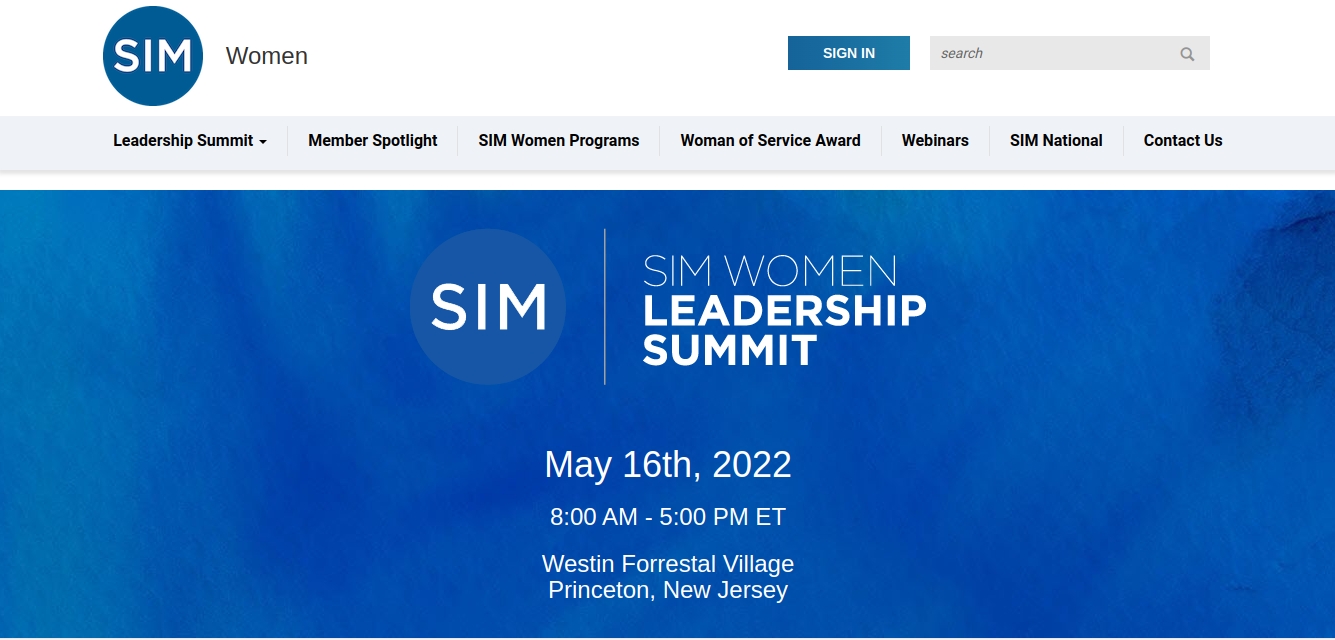 SIM Women Leadership Summit
Do Something!
"Do Something!" is a battle cry that has echoed inside of SIM Women since our founding 15 years ago. Whether you are a CIO, a female tech founder, or a leader on your way up the ranks, we each have the power to make a difference in our careers, our organizations, and our industries.    
Our 7th national meeting – the SIM Women Leadership Summit – will be held on May 16, 2022, at the Westin Forrestal Village in Princeton, New Jersey.
The Summit offers an amazing community and networking, plus thought leadership and solutions across these tracks: EXEMPLIFY, EMPOWER, and EDUCATE. 
Our Summit Council has curated topics relevant to technology leaders today along with a strong programming focus on diversity, equity, inclusion & belonging. Our Summit Partners are amazing non-profit organizations working to affect change in IT diversity and STEM education.   
This is your opportunity to engage and energize both yourself and your career! We can accommodate ~300 attendees in person and an additional 500 attendees on the livestream! 
Don't miss out!!! 
More Info: https://simwomen.simnet.org/simwomen/events/sim-women-summit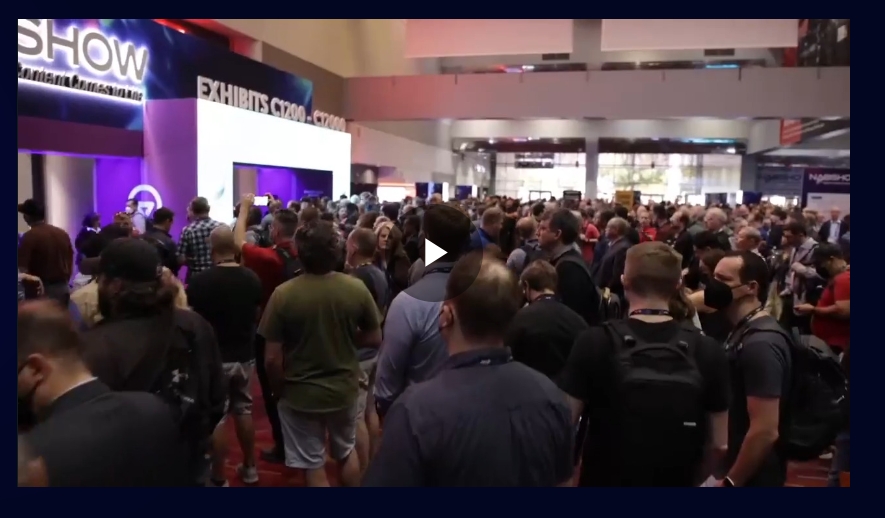 WOMEN'S LEADERSHIP SUMMIT Nabshow
ON NAB AMPLIFY, AT NAB SHOW NEW YORK OR NEXT YEAR AT NAB SHOW.
More Info: https://nabshow.com/2022/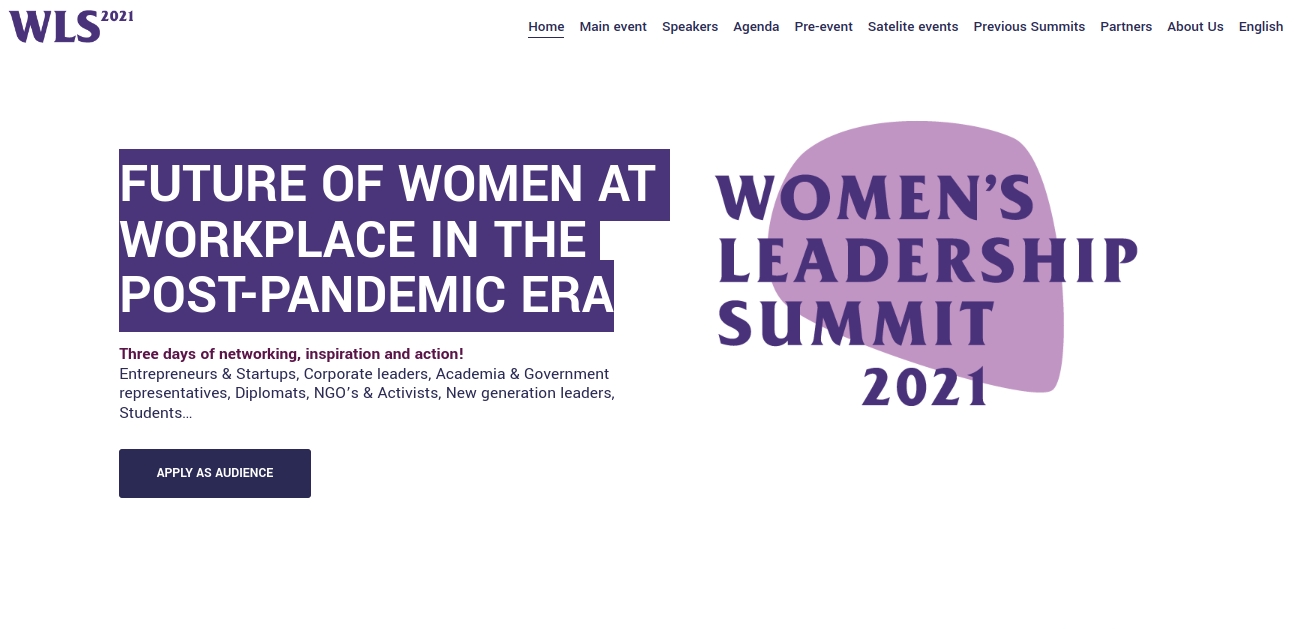 FUTURE OF WOMEN AT WORKPLACE IN THE POST-PANDEMIC ERA
Three days of networking, inspiration and action!
Entrepreneurs & Startups, Corporate leaders, Academia & Government representatives, Diplomats, NGO's & Activists, New generation leaders, Students…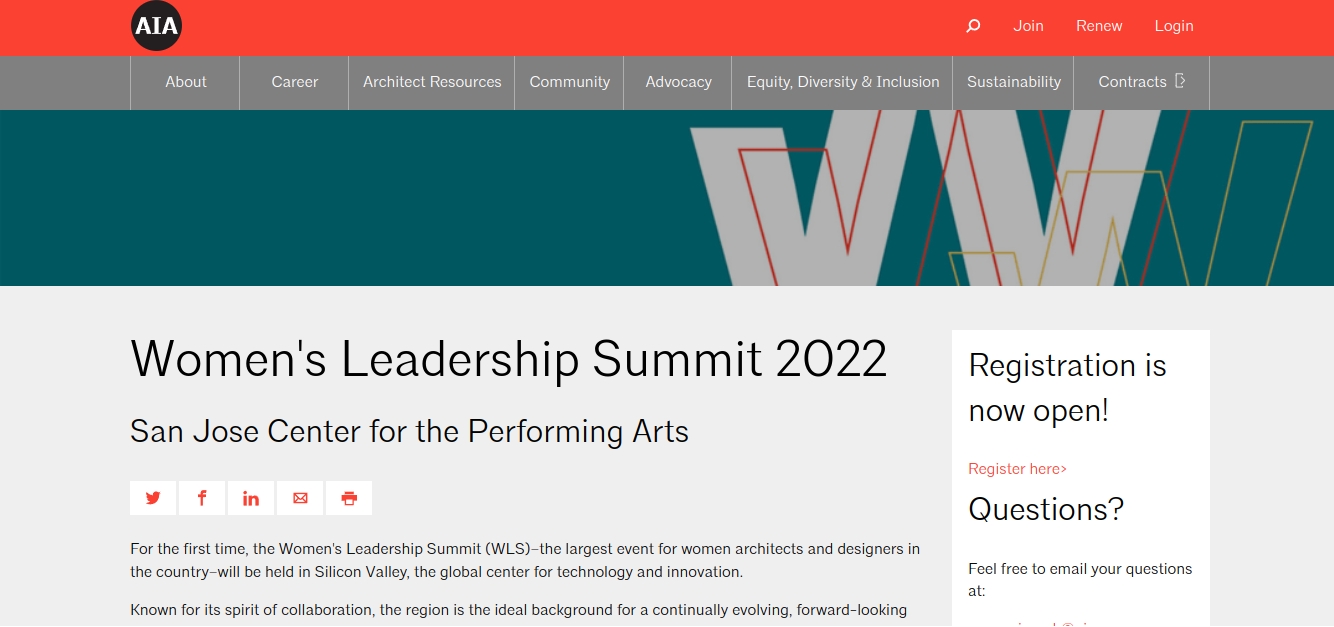 Women's Leadership Summit 2022
San Jose Center for the Performing Arts
or the first time, the Women's Leadership Summit (WLS)–the largest event for women architects and designers in the country–will be held in Silicon Valley, the global center for technology and innovation.
(AIA was founded in 1857 by 13 architects.) https://www.aia.org/history
Known for its spirit of collaboration, the region is the ideal background for a continually evolving, forward-looking event. Hosted by The American Institute of Architects, WLS 2022 will bring diverse women leaders together, with a focus on: firm leadership, advancing business knowledge, targeted networking, proactive career management, and personal empowerment.
Info: https://www.aia.org/resources/6515137-womens-leadership-summit-2022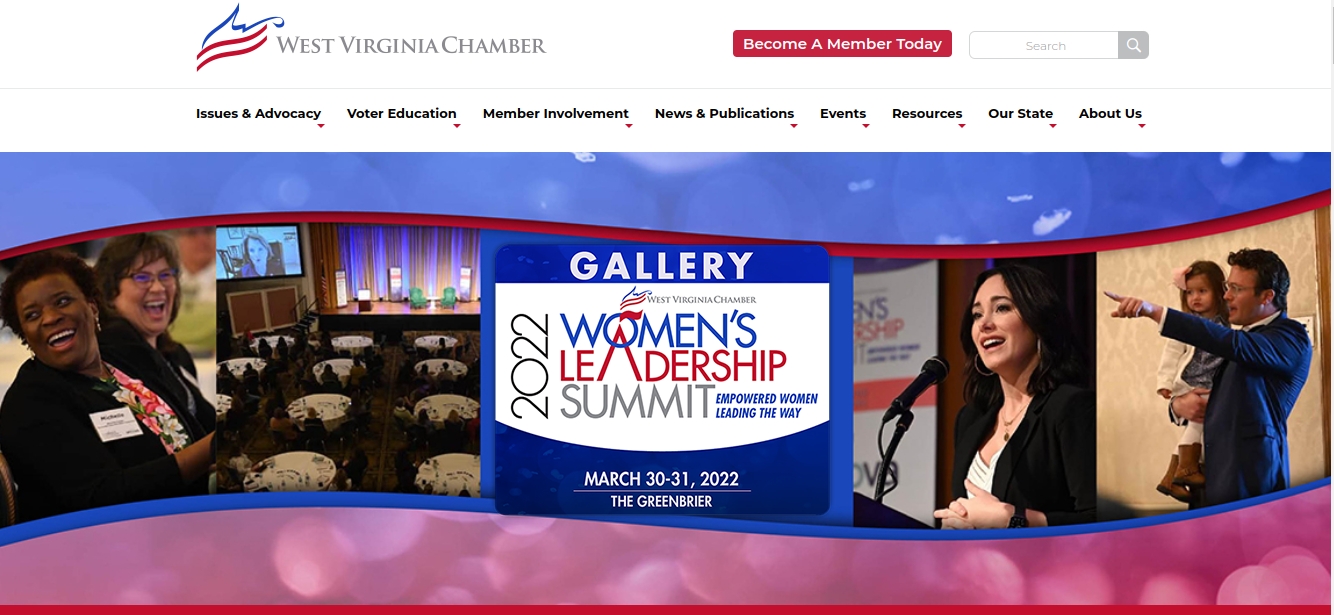 West Virginia Chamber women's leadership summit 2022
2022 Women's Leadership Summit
March 30-31, 2022
This summit is designed to connect, educate and inspire women. The two-day event will included dynamic speakers, networking and more.
This meeting allows attendees to make strong connections with their contemporaries who share similar work experiences, challenges and concerns. Also, attendees will heard and learned from some of the most influential women leaders in West Virginia and beyond. Guests had the opportunity to mix and mingle with the speakers, other like-minded women, sponsors & vendors who care about your success!
The goal of this event? We want women to get excited about improving and embracing their role as leaders. The content is substantive, the relationships real, the learning experiential.
More Info: https://wvchamber.com/Events/2022-Womens-Leadership-Summit.aspx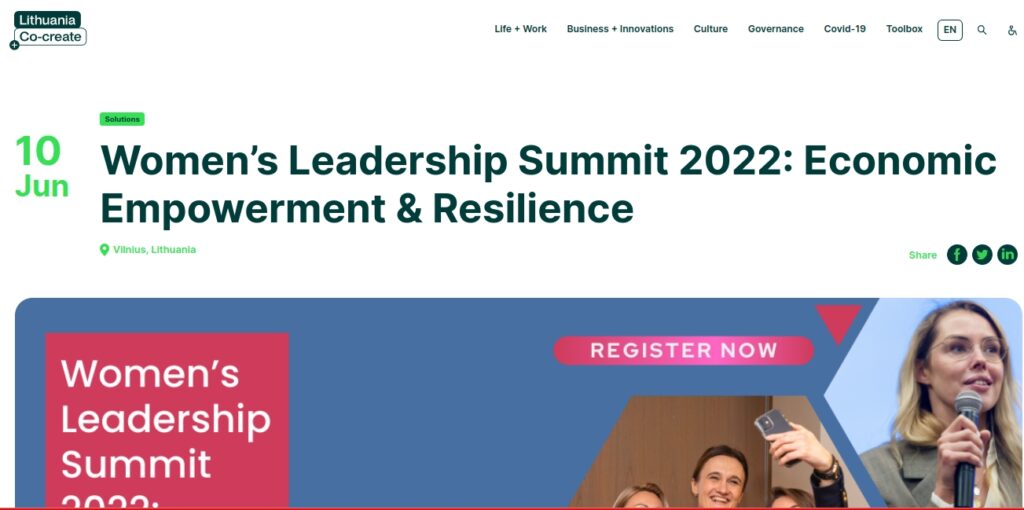 Lithuania Co-Create
Lithuania Women's Leadership Summit 2022: Economic Empowerment & Resilience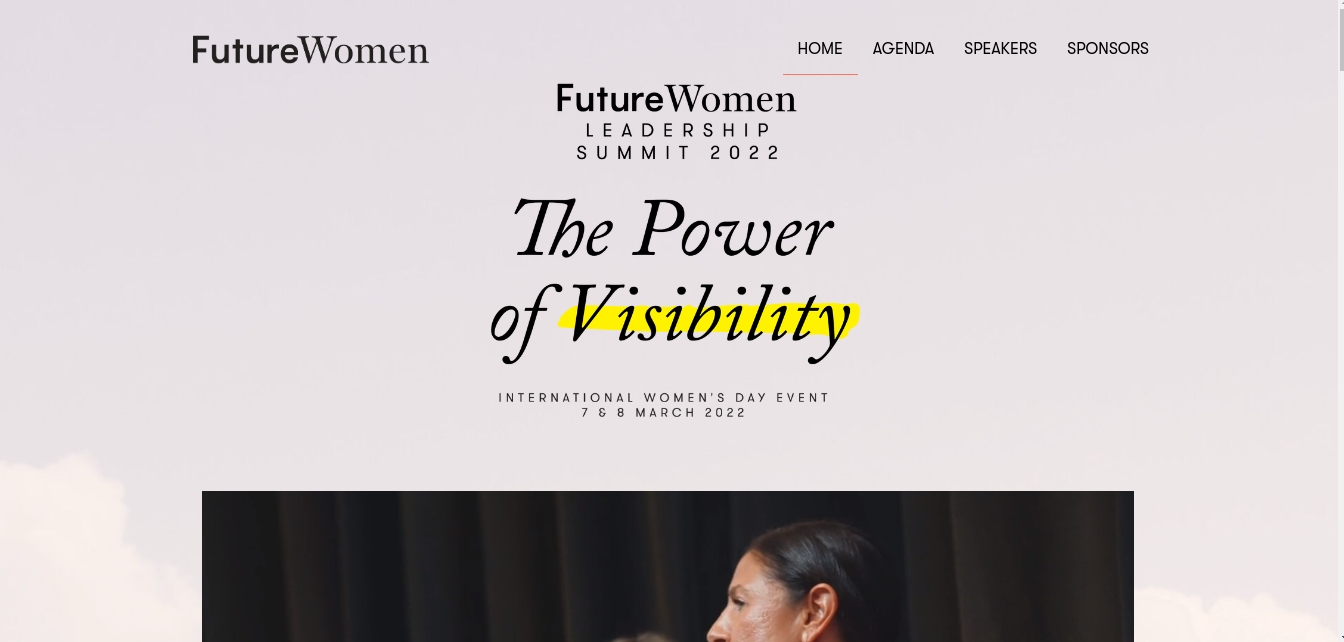 Future Women Leadership Summit 2022 The Power of Visibility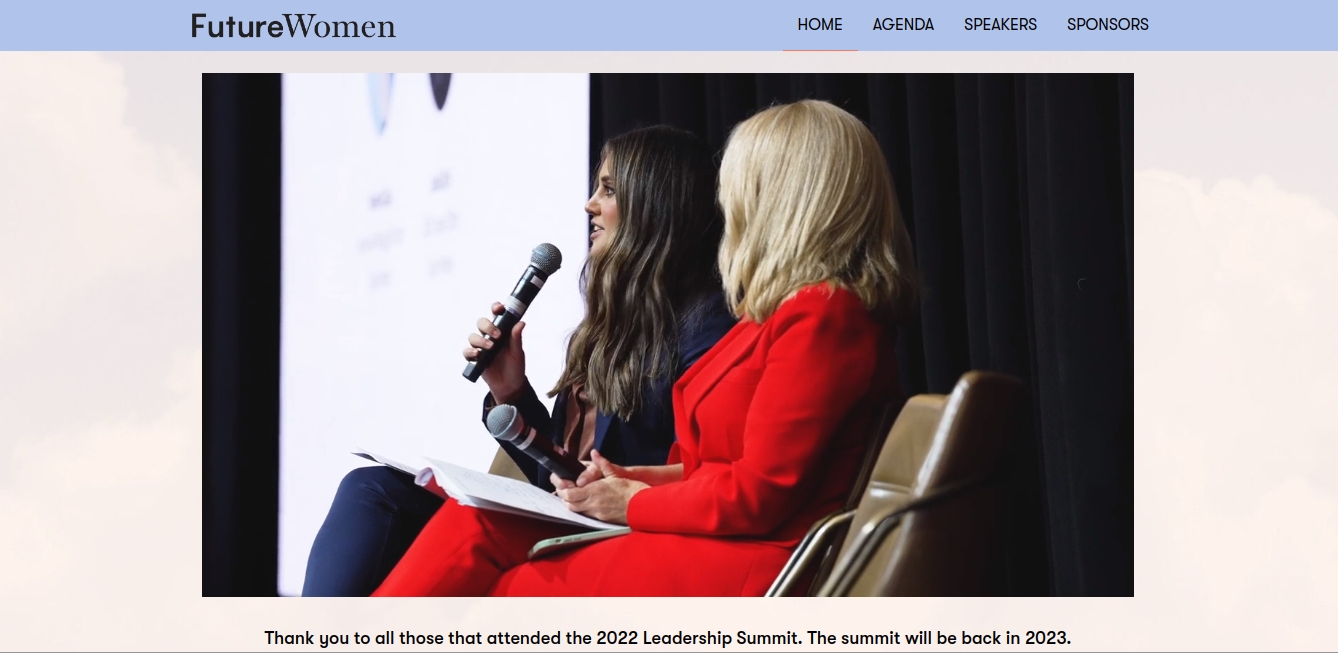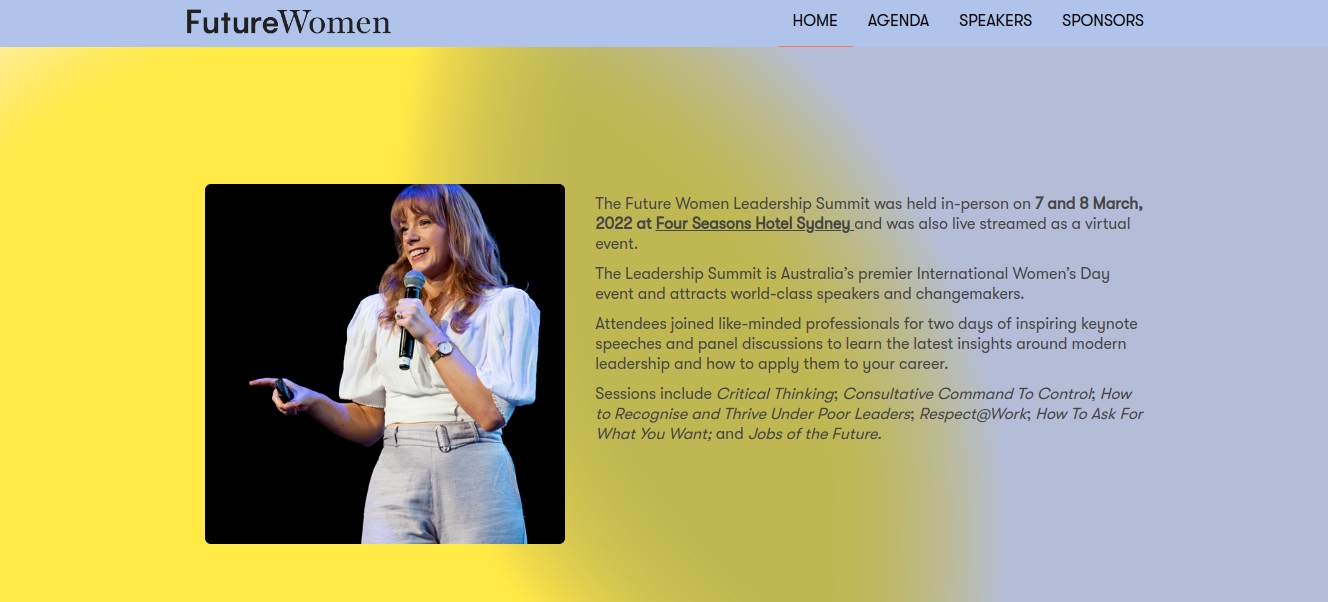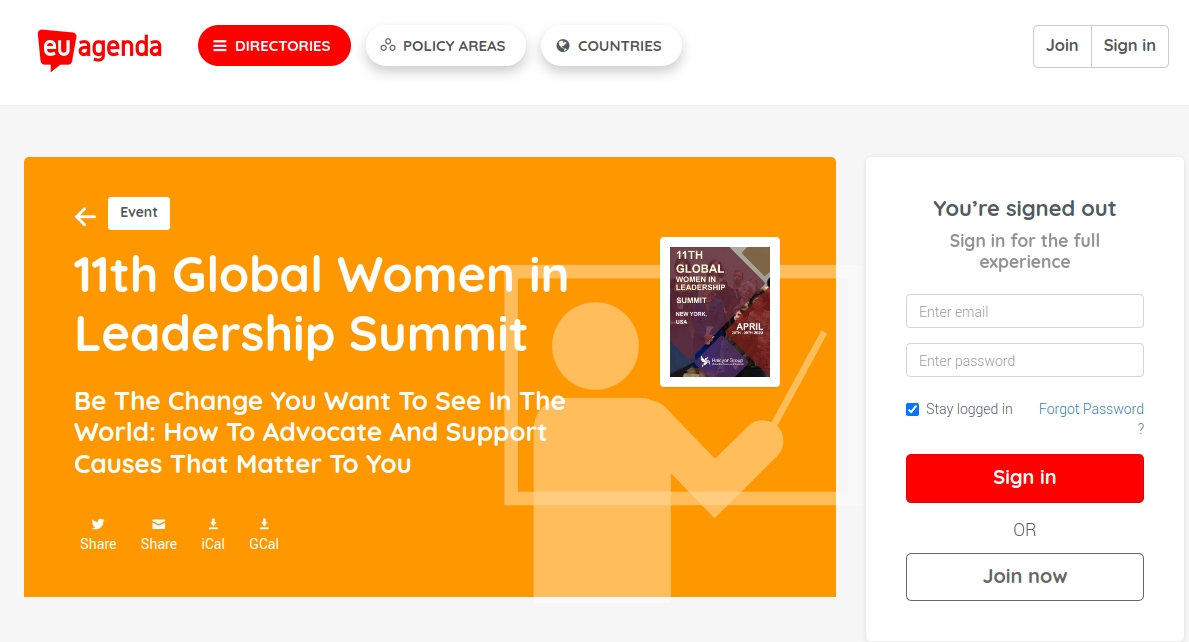 Eu Agenda: eu Agenta 11th Global Women in Leadership Summit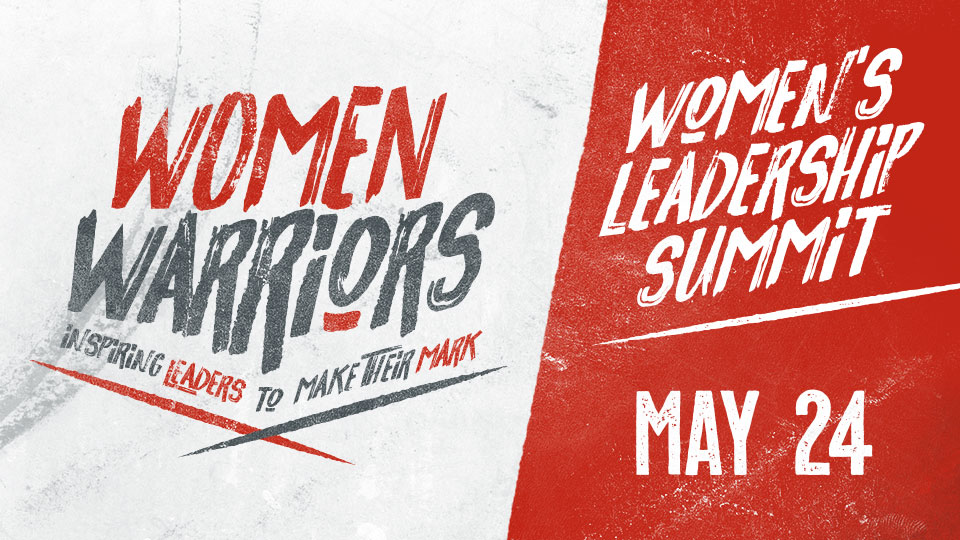 A full-day summit for inspiring, building and celebrating female leadership. Open to all aspiring and established leaders who want to make their mark!
For over 48 years, Leadership Tulsa has identified, developed, and connected diverse leaders who impact the community through service.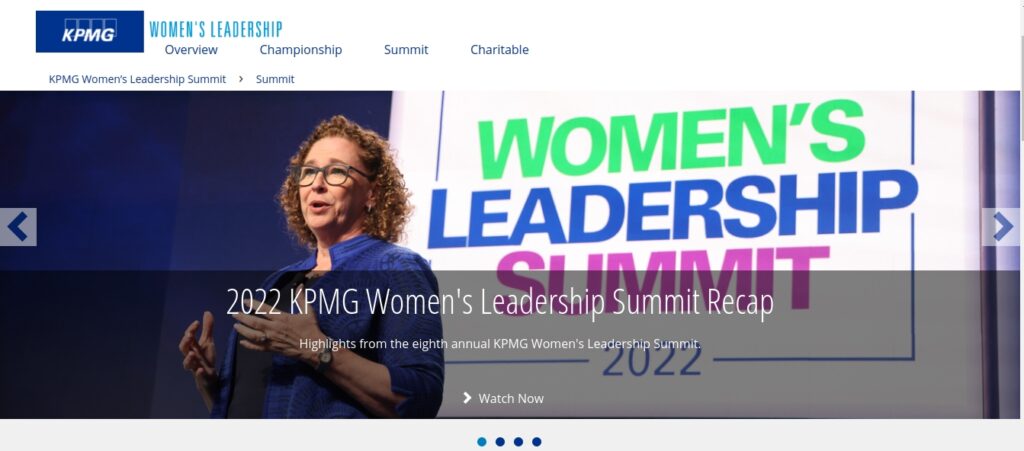 KPMG Women's Leadership Summit Recap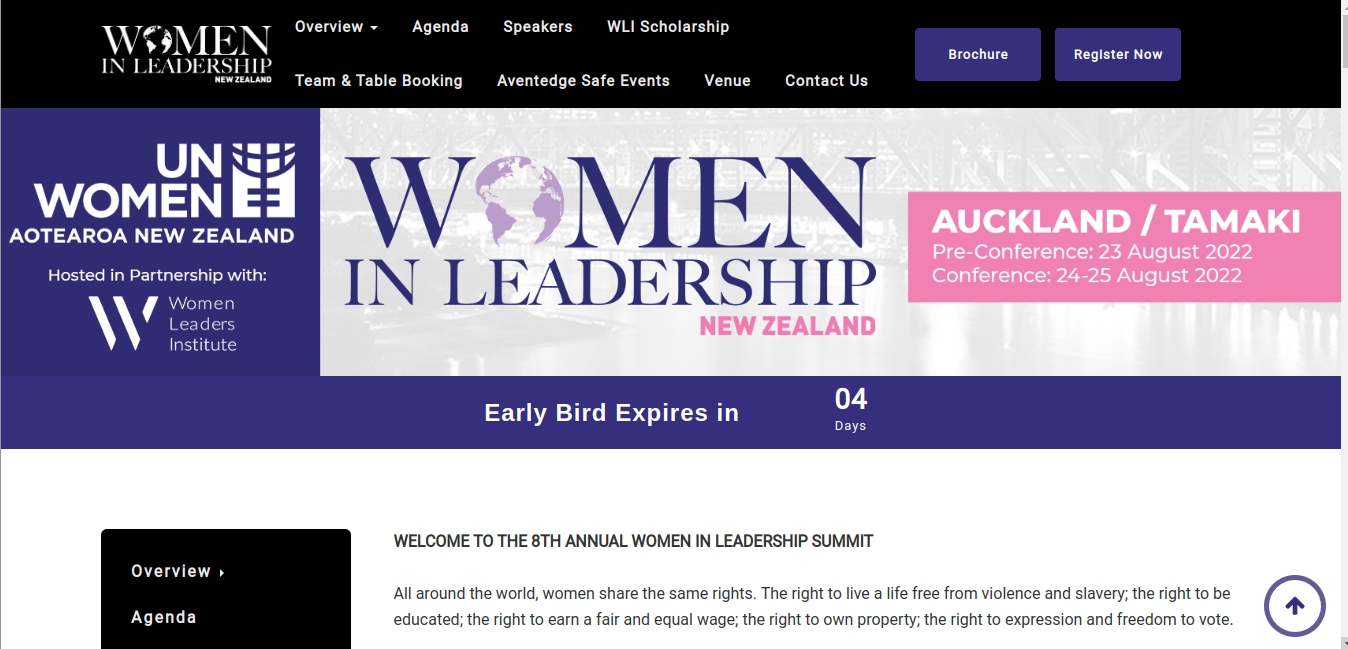 WOMEN IN LEADERSHIP NEW ZELAND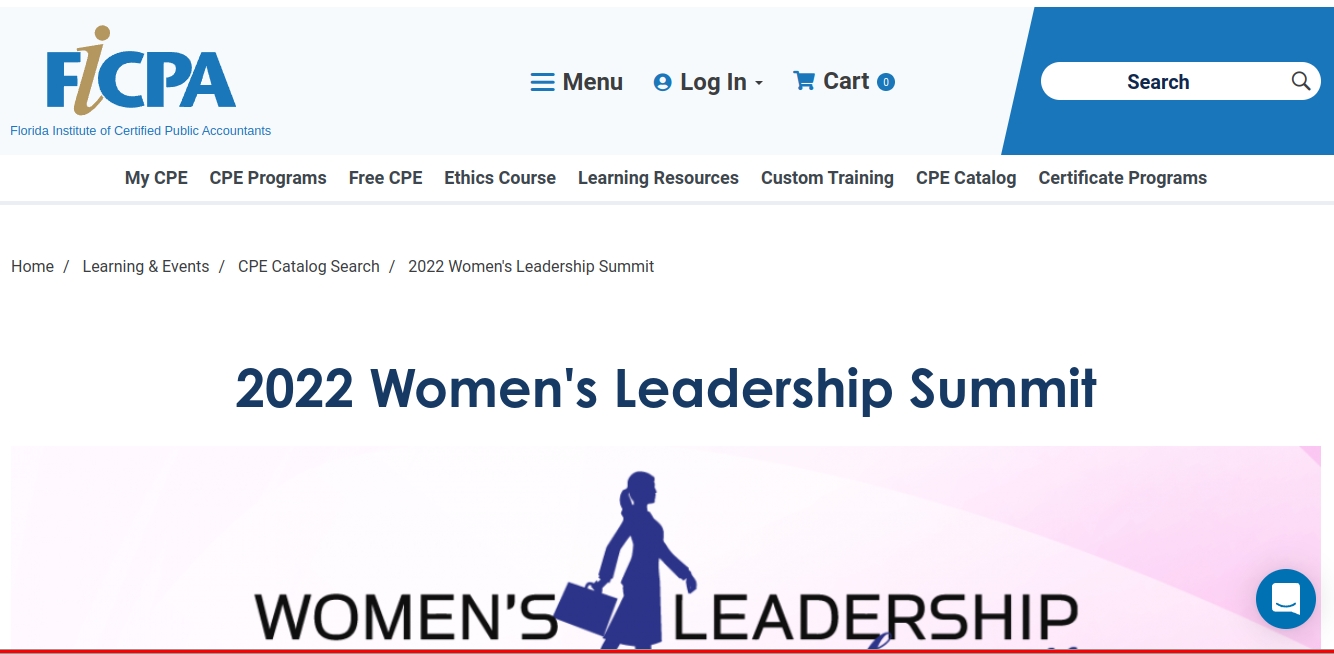 Florida Institute Of Certified Public Accountants
2022 Women's Leadership Summit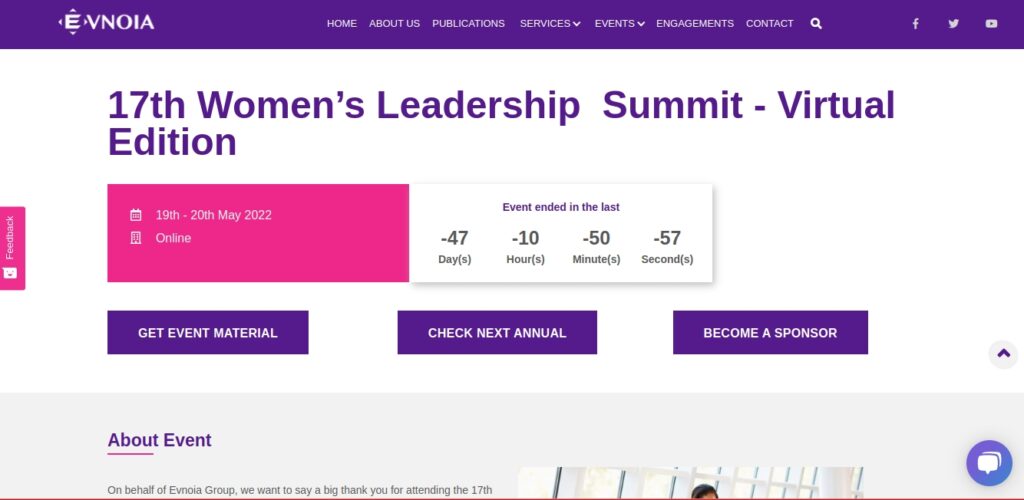 Envoia 17th Women's Leadership Summit – Virtual Edition
Info: https://evnoiagroup.com/upcomingevents/17th-womens-leadership-summit-europe-online-edition/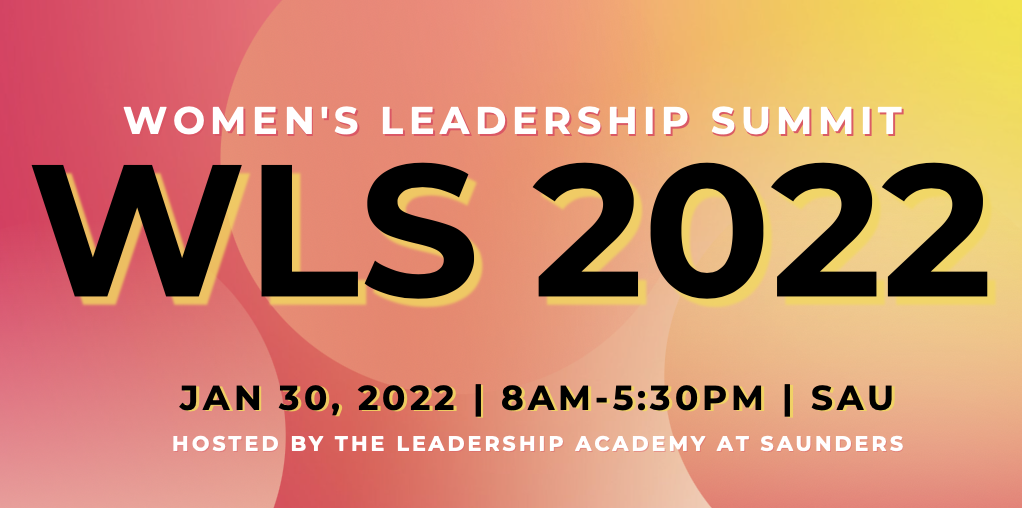 RIT Rochester Institute of Technology WLS 2022
More Info: https://saunders.rit.edu/events/2022-womens-leadership-summit
New Paltz State University of New York /SUNY New Paltz Women's Leadership Summit
SUNY New Paltz Office of Development and Alumni Relations presents our 7th Women's Leadership Summit:
From Inner Strengths and Passion: Achieving Your Professional and Personal Success!
Go: https://www.newpaltz.edu/summit/
Plymouth State University WOMEN'S LEADERSHIP SUMMIT
Educate. Empower. Inspire.
Web: https://www.plymouth.edu/alumni/alumni/connect/alumni-chapters/womens-leadership-summit/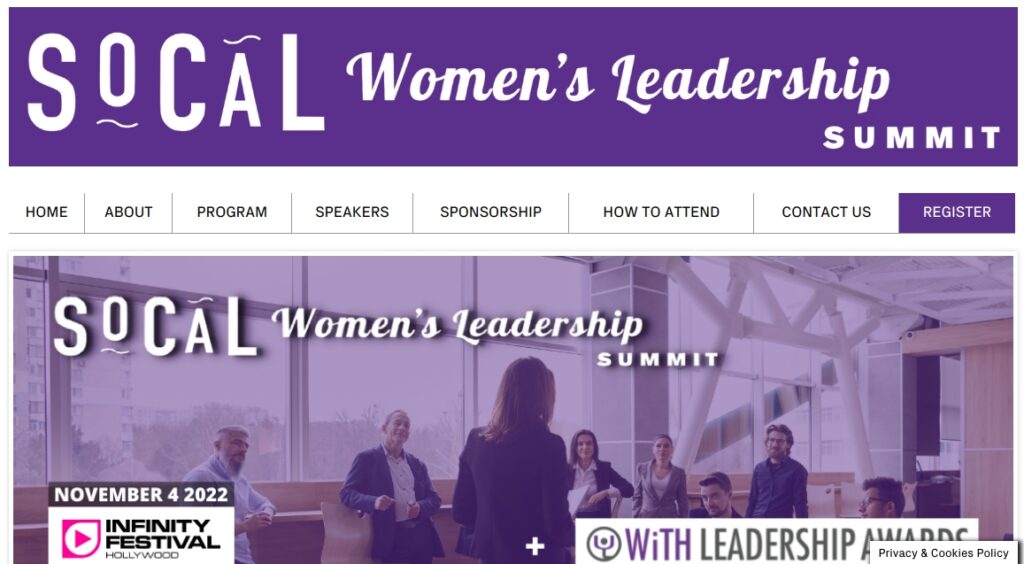 SoCal Women leadership
SoCal Women's Leadership Summit Returns Nov. 4
The annual SoCal Women's Leadership Summit, presented by Women in Technology Hollywood (WiTH), returns Nov. 4 in Los Angeles as both a live, in-person event, and online via the MESAverse virtual platform, bringing together thought leaders in technology and management to discuss the changing landscape of leadership, diversity, accessibility and more.
Info: https://www.mesaonline.org/conferences/socal-womens-leadership-summit-2022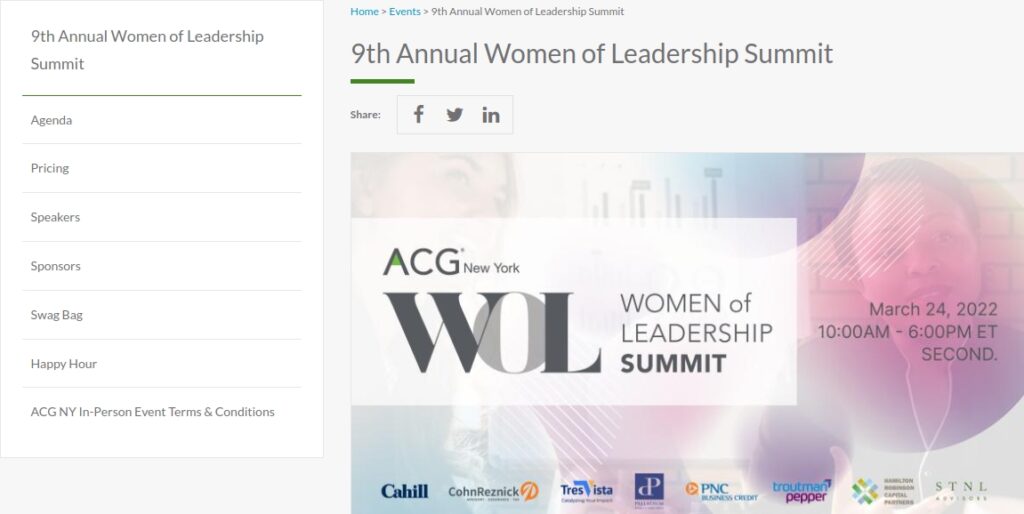 9th Annual Women of Leadership Summit
ACG New York, Association for Corporate Growth
9th Annual ACG NY Women of Leadership Summit  
 
The ACG New York Annual Women of Leadership Summit is designed for established and emerging women leaders in the global middle market M&A community. The successful 2021 gathering focused on how women are shifting their professional direction in challenging environments, while simultaneously balancing their private lives. The forum always provides insightful speakers, one-on-one deal meetings, curated networking, ideas exchange and discussion of shared experiences.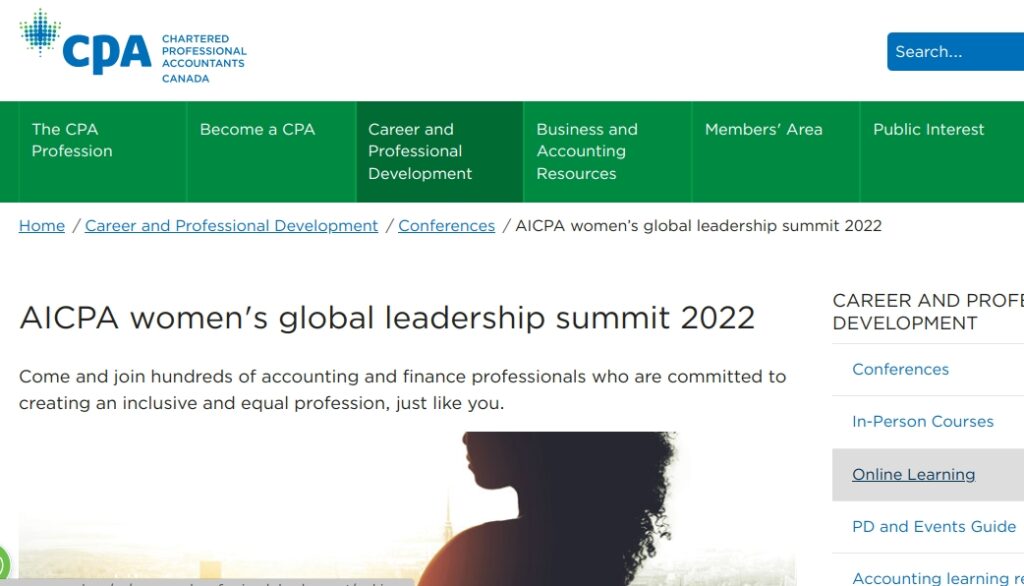 CPA CANADA
AICPA women's global leadership summit 2022
Women have more opportunities now than ever to succeed and advance in the profession. The time has come to harness these opportunities and use them to educate and elevate ourselves, our organizations, staff and other women in both our professional and personal lives.
Location and date:Miami, 8-10 November 2022
https://www.cpacanada.ca/en/career-and-professional-development/conferences/2022/november/aicpa-womens-global-leadership-summit-2022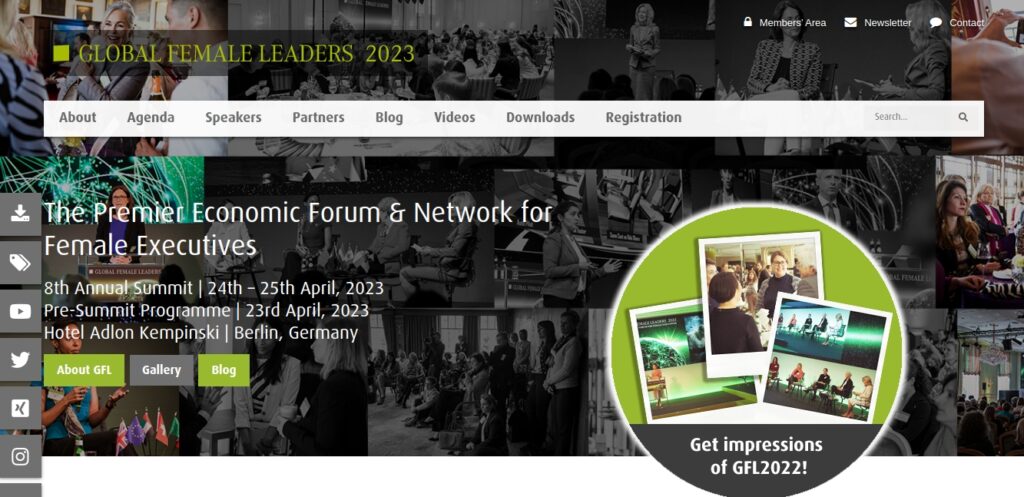 GLOBAL FEMALE LEADERS 2023!
The Premier Economic Forum & Network for Female Executives
https://www.globalfemaleleaders.com/
FARMINGTON Professional Women
'

s Summit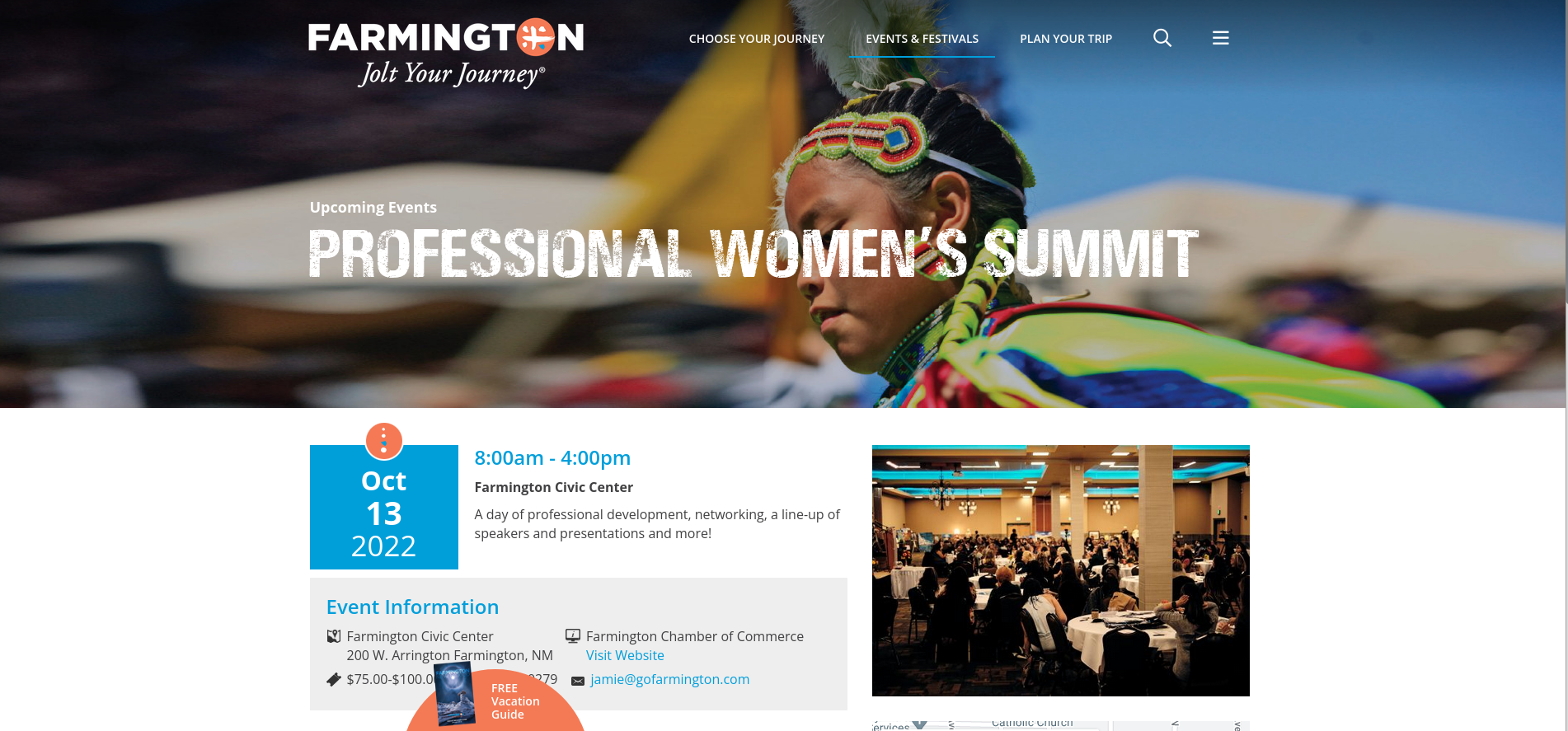 The Four Corners Professional Women's Summit is an annual event aimed at cultivating professional relationships, creating networking opportunities, and providing quality training and development for individuals in the Four Corners Region and beyond. A full day of professional development, speakers, networking, lunch, vendors and more!  The summit will take place at the Farmington Civic Center from 8:00AM-4:00PM on October 13, 2022. 
For more information, visit:  http://www.professionalwomens-summit.com or phone 505-325-0279.  

The Global Women in STEM Leadership Summit

HOTEL MIDTOWN, ATLANTA
The Global Women in STEM Leadership Summit is an initiative founded and led by Engineering Professor Takoi K. Hamrita. This is the only one of its kind two-day summit held in the world that is dedicated to giving women in scientific and technological fields from all career paths access to powerful tools, strategies and connections to advance their careers and their lives. Join our movement!
Info: https://www.stemwomensummit.org/
Women In Law Summit, Canada, 2022, Neinstein Event partner
A virtual event celebrating and recognizing Canada's female lawyers and their achievments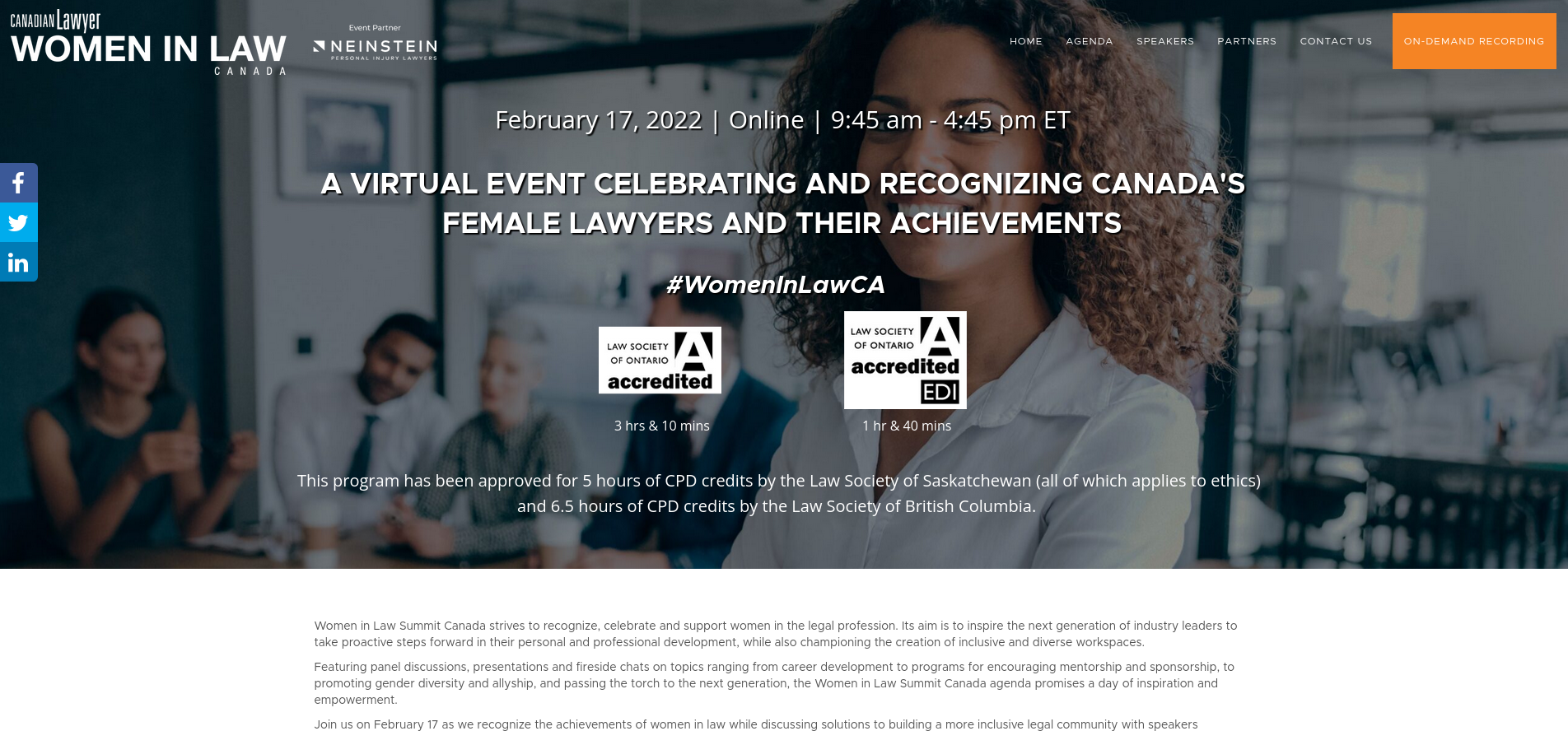 Women in Law Summit Canada strives to recognize, celebrate and support women in the legal profession. Its aim is to inspire the next generation of industry leaders to take proactive steps forward in their personal and professional development, while also championing the creation of inclusive and diverse workspaces.
Featuring panel discussions, presentations and fireside chats on topics ranging from career development to programs for encouraging mentorship and sponsorship, to promoting gender diversity and allyship, and passing the torch to the next generation, the Women in Law Summit Canada agenda promises a day of inspiration and empowerment.
Join us on February 17 as we recognize the achievements of women in law while discussing solutions to building a more inclusive legal community with speakers from some of the country's top law firms and organizations.
See Details: https://womeninlaw.ca/